To be born again;  why and how?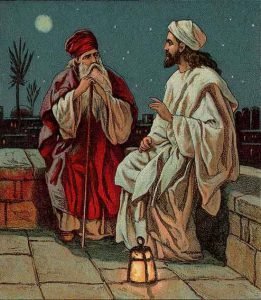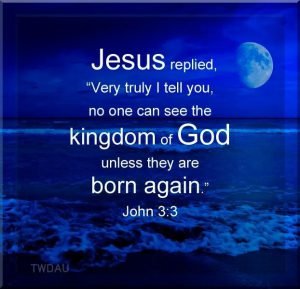 "Born again" has become such a common phrase these days, NICUDEMUS WITH JESUSthat people make jokes about it. There is even a song sung by Barbara Streisand entitled "Born Again" in which the lyrics have nothing to do with the biblical meaning of it.
The first man who uttered the phrase, "born again" was the Lord Jesus Christ when He had a conversation with a Pharisee named Nicodemus.  In John 3:7,  Jesus said, "Do not marvel that I said to you, 'You must be born again."  You (plural) must be born again is an imperative command. The word  "must"  mean necessary.
Why:  Because in God's eyes man is dead spiritually.
Genesis 2:16-17  The Lord God commanded the man, saying,  "From any tree of the garden you may eat freely; but from the tree of the knowledge of good and evil you shall not eat, for in the day  that you eat from it you shall surely die."   Adam disobeyed God.  Did he die physically that very day?  No.
Romans 5:12, Therefore, just as through one man (Adam) sin entered into the world, and death through sin, and so death spread to all men, because all sinned.
Ephesians 2:1,   you were dead in your trespasses and sins.
Matthew 8:21-22,  .. another of the disciples said to Him,  "Lord permit me first to go and bury my father."  But Jesus said to him follow me;  and allow the dead to bury their own dead."  People go to a cemetery for a funeral but in the eyes of God all men who don't have a personal relationship with Christ are dead.  That is why Jesus said  "Come follow Me"   because only Jesus can give spiritual life.
To be born again and to be saved is the same.  It is synonymous.
How to be saved:  Romans 10:9-10,  that if you confess with your mouth Jesus as Lord, and believe in your heart that God raised Him from the dead,  you shall be saved;   for with the heart man believes, resulting in righteousness, and with the mouth he confesses, resulting in salvation.
Salvation of our souls is now.
2nd Corinthians 6:2,  for He says "AT THE ACCEPTABLE TIME I LISTEN TO YOU AND ON THE DAY OF SALVATION I HELP YOU";  behold, now is  "THE DAY OF SALVATION."
The devil has deceived people by believing the doctrine of purgatory.  There is no purgatory in the Bible.  Once a man dies, there is no hope.  Prayers for the dead and purgatory are doctrines that come from the pits of hell.  It is a lie. (Hebrews 9:27) "And as it is appointed unto men once to die, but after this the judgment."  A man without Christ who dies will immediately go to Hades or Hell.  The devil is trying to manipulate people in believing in ghosts.   These are not ghosts;  these are demons or familiar spirits.   Demons can mimic a dead person's voice or can make you see apparition, just for people to believe that the dead still have a chance to go to heaven through prayers and performing mass. People believe the devil rather than believing what God said in the Bible.   Salvation is now and not when we are dead.  How can a dead man repent of his sins?  How can a dead man accept Christ?  There are those who will reason out and say how about Samuel who appeared to King Saul?  Samuel was dead already so a ghost can come back.  My friend,  that was a special occasion that God permitted because God had a purpose and besides Samuel didn't go to Hell. He was a man of God temporarily in Abraham's bosom or the paradise at that time.(1st Samuel 28:15)
Hebrews 4:7,   "TODAY IF YOU HEAR HIS VOICE DONNOT HARDEN YOUR HEART."
Ephesians 2:8-9,  "For by grace you have been saved through faith; and that not of yourselves, it is the gift of God;  not as a result of works that no one should boast." (NAS)  In the New Living Translation (NLT), it says:  "God saved you by His special favor when you believed.   And you can't take credit for this; it is a gift from God. Salvation is not a reward for the good things we have done, so none of us can boast about it."
Jesus died on the cross to redeem us, to pay our debt in full for our sins.  What we have to do is just accept the free gift from God by accepting Jesus Christ into our hearts.   Salvation is free and to be born again is just as simple as that.
1st Peter 1:23,  "For you have been born again not of seed which is perishable but imperishable, that is through the living and abiding Word of God."   That is why it is important to explain the Bible otherwise how can a man hear God's Word and how can he be born again and be saved without the Word explained to them?
Those who believe in Jesus Christ become children of God.  John 1:12,  "But to all who believed Him and accepted Him, He gave the right to become children of God."
John 3:16,   "For God so loved the world, that He gave His only begotten Son, that whoever believes in Him should not perish, but has eternal life."
Are you willing to accept His gift? You can be born again right now. You can be saved right now. (Romans 10:9-10) that if you confess with your mouth Jesus as Lord, and believe in your heart that God raised Him from the dead, you shall be saved; for with the heart man believes, resulting in righteousness, and with the mouth he confesses, resulting in salvation.
How to be saved?
Pray this prayer, and mean it with all your heart.
Lord Jesus, I know that I am a sinner, and unless you save me I am lost forever. I thank you for dying for me at Calvary and paying for my sins. I come to you now, Lord, just as You said in Your Word, the best way I know how, and ask you to save me. I now receive you as my Savior. In Jesus Christ Name, Amen.
Born Again is not a religion nor a denomination it is an experience.  When an infant comes out from his mother's womb, the baby will cry and will not stop crying unless he be fed with milk. In like manner, a born again Christian will thirst for God's milk which is the Bible (God's Word). A lot of people joined in an Evangelical Church claiming to be born again but if you have no thirst in your heart for the Bible, you are deceiving yourself believing you are born again even if you have uttered a sinner's prayer because someone told you to. If you uttered a sinner's prayer if not from your heart, it is of no use.
Read the topic: "Unless you repent"